Home
|
Life
|
( 3 )
|
Subscribe
Posted by
Felix Okoli
on Wednesday November 2, 2016 at 10:1:34: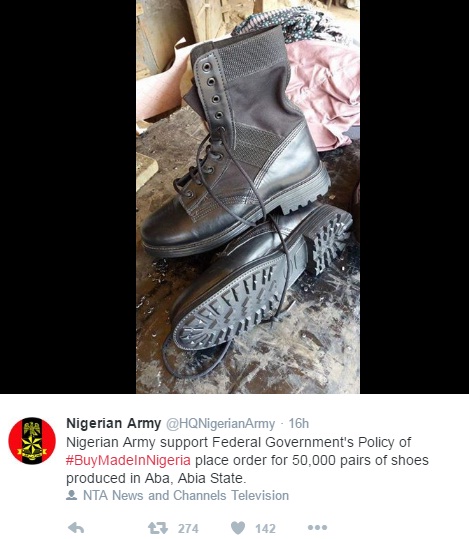 One thing I love that the Nigerian government is now doing is buying things that are made in Nigeria and recently they showed they are really doing it by patronizing made in Aba shoes. In case you didn't already know it, the Nigerian Army has now officially ordered for 50,000 units of Army boots from the Aba shoe industry.I remember some years in the past when I was still going to school and some of my class mates and friends in the South West were fond of abusing products that were made in Aba just because they considered it to be of lower quality and they referred praising things that were imported from the USA or UK. It was because they were narrow minded and didn't know that despite the fact that some of the items made in Aba were of low quality, they were still made in Nigeria and all Nigerians ought to be proud of it. What they didn't know was that our country could not keep surviving if we kept importing everything that we need because that is what made our Naira to be so devalued to the N450 per dollar it is as at today.Nowadays, it's really hard to find products that are made in Nigeria as it seems that a good majority of out products are imported thanks to the colonial mentality many Nigerians still have despite gaining independence from white people over 50 years ago. It's time we start thinking about how we can sustain Nigeria's economy rather than killing it faster by importing things as lowly as toothpicks and biscuits.
So, I learnt that the Nigerian Army has actually decided not to import their boots this time around as they are choosing to buy the ones that are made in Aba. Well, I don't know if they are to to import foreign made boots later on but the 50,000 units they've ordered for should help Nigeria save our Naira from losing more value.What do Nigerians think about Aba made products? Well, I have to say that a good number of Nigerians have really been guilty of looking down on Aba made products because they consider it to be low quality but it's time we start looking it it differently. It's time we start embracing it as something that is made in Nigeria and as something we should be proud of. Sure, some Aba made products may have a shorter lifespan r inferior deisgn than the ones that are imported but that is also a reason why they are sold at a lower price.If you've ever insulted or abused Aba made products or looked down of people who patronized them, it's time you make amends to our great nation by buying something that it made in Aba. You could buy clothes, shoes or something tangible you are sure that is made in Aba so as to make amends for abusing something that promotes Nigeria.Aba made products may not be as flashy or as gracefully designed as imported products but there seems to be no better Nigerian made alternatives that can serve as a replacement for imported products. It's time we start looking up to them rather than looking down at them because they are actually pro-Nigerian.Some Nigerians don't know where Aba is located and they should know that it is located in Abia state of Nigeria and they have a huge industry that employs a lot of skilled people and entrepreneurs who help made a lot of products that can help reduce Nigeria's independence on imported products.Aba is a good example that many Nigerian cities should copy but it's not good if many Nigerians keep looking down on products made there just because they can afford to buy things that are made by our former colonial masters.It's a good thing that the Nigerian army and government are doing things that involve buying made in Nigeria products. I just hope that other Nigerian would start thinking likewise and know that it's better to buy locally than keep wasting out little resources on importing items that can be made in Nigeria. Even though things made in Aba are not the best in the world, it's still worth something which is good for the Nigerian Naira.
---